Here are some screenshots :
2.png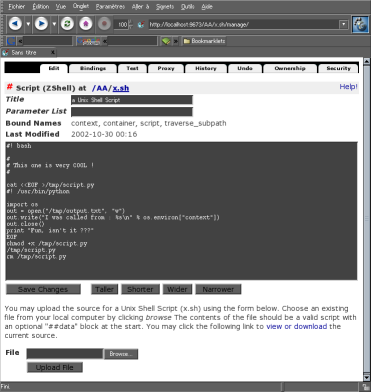 This one shows what you can put inside Script (ZShell) instances. I find it very funny, and of course it works !!!
---
1.png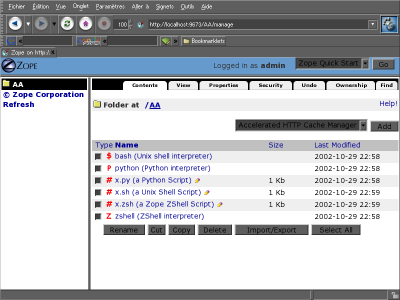 This screenshot of the Zope management interface shows what ZShellScripts can do.
There's a Shell (Python) instance, a Shell (Unix) instance, and a Shell (Zope) instance, which are different interpreters for different languages, respectively Python, Unix shell and Zope ZShell.
There are three instances of Script (ZShell), which have the very same meta_type, but which contents is completely different one from each other :
The x.py object contains Python code, and its first line points to the python object. Launching it will execute this code as with normal Zope Script (Python) instances.
The x.sh object contains Unix shell commands, which will be run as the user who runs Zope (usually zope, nobody or www-data).
The x.zsh object contains Zope ZShell commands which ressembles Unix ones but work on the ZODB contents instead of on files on the filesystem.
---